The IT market has always been very sales-driven, however, lately tech companies have been starting to increasingly utilize marketing strategies. This presents a challenge that many companies are currently facing – how to determine if a lead is ready to be passed to the sales department for follow-up and how to improve the quality of leads. So, if you are generating many low-quality leads and struggling to qualify them, then keep reading to discover some strategies that will help you improve the quality of your leads.
How to determine the quality of a lead
If you want to work on the quality of your leads, the initial step you must take is to determine their quality, so that you have a starting point and know to which extent they need to be qualified. It is crucial to assess the quality of the lead in order to improve it.
The BANT framework is used in IT to assess the quality of a lead. It is a qualification methodology that helps to determine if a prospect is a good fit based on these four criteria:
Budget – if the prospect has money to invest
Authority – if the prospect has the right job function, seniority etc. to make the purchase
Need – if they have a need for the product
Timing – if they have a dedicated timeline for purchase

However, is the use of BANT in marketing really optimal? Not really, since it was introduced in 1950 for sales and is not applicable in marketing to a full extent. Information relating to budgets is very hard to obtain through digital marketing, which is also the case for timelines unless you directly check with the prospect.
Another question it may pose is whether you really only want to focus on those prospects who have a need and are already looking for a solution. By doing so, you may miss out on a big part of the market that might not have a need but is interested. Prospects don't have a need or interest if they are not aware of the capabilities or that there is a solution, however, they can become interested once they find this out, which makes this a better long-term perspective, thus creating a great opportunity. That said, perhaps a more applicable framework for use in marketing would be BAIT, where interest replaces need.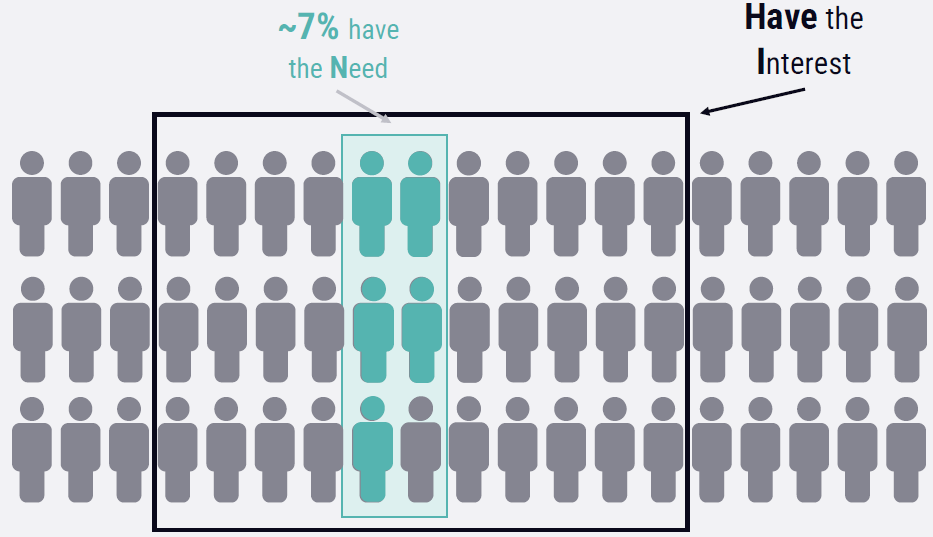 Define what lead means within your company
To avoid any misunderstandings between marketing and sales, be sure to define what a qualified lead actually is, so it is clear to everyone in your company. You should distinguish two types of lead – marketing qualified leads (MQLs) and sales qualified leads (SQLs). An MQL is someone who has shown interest in what you are offering and is more likely to become a customer than other leads. A SQL is a level higher, as these leads have already been through all the stages of the marketing funnel, thus they are less likely to disappear midway through a sales process.
Embed qualification into your digital campaigns
Embedding qualification into your campaign is an important strategy that you should consider because qualifying leads during a campaign will result in better quality leads and less qualification afterward for the sales department.
You can achieve this by setting up your digital marketing campaign to reflect the sales process. During the sales process, it usually takes more than just one meeting or interaction with a prospect to make a sale, they will probably have a lot of questions, they will want to know about the benefits and challenges, they will want to see some proof through references, and even see a demo. Be sure to also take this into consideration in your marketing campaign and treat it in the same way as the sales process. Get people interested, tell them the advantages of the product, provide them with some client case studies and demos.
Another thing to consider is using the proper channels to target the right people. You should have in mind that, for example, LinkedIn enables you to reach certain job functions or industries, whereas Google allows you to target only based on interest. In addition, you can also use targeted ads that will filter and qualify the leads based on their content. For example, if you write in the headline of your ad something like 'Challenges relating to the modern workplace that companies with 1,000+ employees face', it will automatically filter the audience since people from companies with 50 employees will most likely not click on this.
These are just a few tips for how you can implement lead qualification into your digital campaign to get more quality leads; if you want to dive deeper and explore even more strategies, be sure to also watch our webcast on this topic.
Qualify your leads with (better) use of Marketing Automation
Marketing Automation, when properly set up, will allow you to simultaneously nurture all your leads throughout all the stages inside your funnel. You can get a lead that signs up to download an e-book, but does this really make it a qualified enough lead to follow up with sales? With Marketing Automation you can set up different scenarios to nurture the prospects, provide them with the appropriate content based on their actions, and boost their interest to slowly turn them into a qualified lead. Marketing Automation tools will also provide you with data that will help you evaluate the quality of leads and also provide you with more insights for targeting purposes.
The graphic below illustrates one of the most basic Marketing Automation workflows. The prospect fills out a form and, based on that, receives an outreach email. After 3 days, the prospect will receive another email with an invite to also check out another asset, and the same process is repeated after a further 3 days with another asset. Finally, the prospect will receive a reminder email after the set date.

Lead scoring
Thanks to all the analytics that Marketing Automation tools provide, for example, if a prospect has clicked on the CTA in the email, if they have downloaded the assets, or if they have requested a demo, you can develop your own lead scoring model. After establishing a certain lead scoring model, it will be easier for you to determine which leads are qualified for the sales department to take over and which require a bit more nurturing and qualifying. Lead scoring will also create a clear framework that will make cooperation between the marketing and sales departments more efficient by making clear which leads are ready to be followed up.
Last, but not least...
Another step to consider to improve your leads is to get support from a specialized B2B agency that understands your business.
If you want to get more in-depth information regarding the strategies we have covered in this article, as well as a few extra tips, be sure to watch our recent webinar that covers this topic in more detail.
WATCH OUR WEBCAST
"Marketing in IT: Improve the quality of your leads"